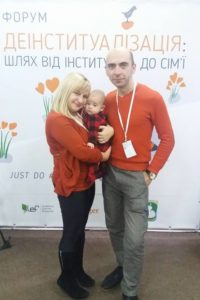 ABOUT OUR CHARITY FOUNDATION AND ACTIVITIES
The history of the fund began in 2016.
Then two wonderful people Christina and Yuri Gupalo great grief happened… after 12 days of life their only and very desirable daughter Anna-Maria died…
However, these people did not give up, did not lose heart, and overcoming despair and unbearable emotional pain, decided to dedicate many good deeds to her life, establishing a Foundation in her name. That's how it appeared Anna Maria Christian Aid Charitable Foundation, who takes care of low-income and large families. They opened and set up a warehouse with things they received from the population, where every needy family can turn and get help.
Within Anna Maria Christian Aid Charitable Foundation a grand project is developing   creating Help & Development Center, which aims to increase the amount of assistance that the Fund can provide to those in need. You can find more information here.
The Foundation also conducts other charitable activities, namely:
trips to orphanages;
trips to hospices;
assistance to large and low-income families;
assistance to families of military personnel and refugees
helping others in need.
We are happy to welcome new people to our team. We always need volunteers to:
help us with work in the warehouse: sort, shift, hang things;
take part in trips to orphanages and hospices;
to help organize our special events for children and adults from low-income families;
preparation of delicacies for trips and events;
Like any other charitable foundation, we cannot exist without your constant financial support.