Who we are and what we do
Anna-Maria Charitable Foundation has been active since 2016.
We have extensive experience in working with families in difficult life circumstances. This experience allows us to successfully adapt to new conditions and provide quality assistance!
MISSION OF THE FOUNDATION:Provide comprehensive support and development prospects for socially vulnerable families to overcome crisis situations, keep children in their families and improve the living standards of future generations.
The main target audience is socially vulnerable low-income families with children who are at risk of being removed from their homes due to difficult life situations.
The activities are mainly aimed at:
Low-income, single-parent families with children and large families.
Families of former children from orphanages.
Children from orphanages and specialized institutions.
Families with children with disabilities/severe illnesses.
We also regularly visit and support lonely elderly people, nursing homes and psychoneurological institutions.
BEFORE THE WAR:
We helped vulnerable people with basic needs: clothes, shoes, baby clothes, hygiene products, food. This has been our daily work for 5 years.
We opened a large Help & Development Center with an area of 325 square meters. We made major repairs and furnished the premises.
At the Help Center, we organized education, trainings, and useful leisure activities for children and adults from socially vulnerable families.
We have additional warehouses for storing and sorting things, with a total area of 750 square meters.

IN TIMES OF WAR, WE WORK AS A LARGE COORDINATION CENTER
1) Every day, about 30 families (about 100 people in total) who were forced to leave their homes without the necessary things for safety (IDPs from Kharkiv, Donetsk, Luhansk, Kyiv and other regions), as well as local people in need, come to us for help in person:
✔ On average, we provide assistance to 400-500 people per week, and distribute about 3000 kg per week;
2) We help points of temporary accommodation for migrants:
✔ We load 5 cars with food per week. We also buy food, and volunteers prepare and deliver the meals. Approximately 1000 kg per week;
3) every day we send the necessary humanitarian aid, which volunteers take to the combat zone in cities where there is already a humanitarian catastrophe:
✔ 8-15 trucks per week. On average, we ship 1500 kg of aid per truck.
4) We also help the military who are in the war zone. Although this is not our area of focus, we use trusted volunteers who go there to send them the things they need, which we have and can get.
We report and talk about our activities during the war here: https://anna-maria.org.ua/category/inwar/


PLANS AFTER THE WAR:
Even before the war, we opened the doors of our new Center for Assistance and Development!
We will have a lot of work to do to restore civil society.
From our experience, we understand that meeting the basic needs (providing clothing, food, etc.) of people in difficult life circumstances is very important and necessary. However, to overcome crisis situations, family assistance should also include comprehensive work with children and their parents, psychological and legal support, development, new useful skills, and quality leisure.
OUR GOALS:

to comprehensively help families in difficult life circumstances in the area of "Family Support" to overcome the crisis;
to organize the activities of the "Advice Center" with the professional support of a psychologist and consultations of other specialists;
conduct trainings, workshops and organize useful leisure activities for children and adults from socially vulnerable families:
courses on financial literacy, parenting, family relationships, the role of husband and wife, the basics of healthy eating, healthy lifestyle, and others,
career guidance for children from socially vulnerable families.
meetings with psychologists, lawyers, social workers, doctors and other specialists,
basic courses and additional thematic classes (English, mathematics, world travel, ecology, information technology, etc,)
master classes and games,
art therapy classes,
motivational trainings.
to reduce the amount of garbage by donating usable items to people in need and partially recycling unusable items.
And after the war is over, we plan to launch a social entrepreneurship for the production of natural and healthy fruit sweets.
To fully cover the costs of maintaining the Center for Assistance and Development.
We have ready-made premises, some equipment, and experience in the catering industry. The war in Ukraine forced us to postpone these plans.
To launch a social enterprise, we need additional resources:
Vertical drying cabinet for dried fruits (dehydrator)
Steam convector for ~10 level
Professional vacuum cleaner
Slicer, blender, vegetable cutter
Funds for start-up
LOOKING FOR PARTNERS TO HELP IN UKRAINEIf you are a charity, organization, foundation, volunteer community, company or just a person with an active life position, join us for a good cause: helping those who are in need because of the war and destruction of our Ukraine by the enemy.
HOW YOU CAN HELP:
Organize the collection of necessary items and send them to us or bring them yourself.
Help us financially.
Share useful contacts of organizations and people who help.
We need food, hygiene products, medicines and more. Find the full list of necessary items here:
https://anna-maria.org.ua/spysok-aktualnyh-potreb/
They trust us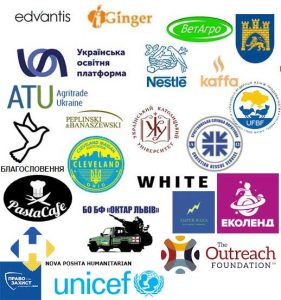 We are open to ideas and suggestions!